Yankee Stadium Tours
Tours of Yankee Stadium
Welcome to Yankee Stadium Tours!

We are proud to offer you an exhilarating Day of Yankee Fan excitement. Your Tour starts with one of our comfortable Sedan's, Stretch Limousines, Stretch SUV's &/or Limo Buses arriving at your door step. Your destination, The House That Ruth Built – Yankee Stadium.

Imagine walking on the field, sitting in the dugout where your past time and/or present Yankee player stood, walking through Monument Park & visiting The Clubhouse. This is truly the ultimate Yankee Fan Tour!
| | |
| --- | --- |
| We offer Gift Certificates for the Holiday's or any occasion. | |
| | |
| --- | --- |
| The Mic ( Package #1 ) | The Great Bambino ( Package #2 ) |
| | |
| Tour lasts approximately - One Hour | Tour lasts approximately One Hour & Thirty five minutes |
| | |
| ( Groups of 2-11 only) | (Groups of 12-50 only) |
| | |
| | |
Package #2 Includes all of The Mic plus a New York Yankee historical film short in the Adidas Suite, a tour of the Club Level with stops at the Great Moments Room, a luxury suite and the Yankee Club. Special souvenir items are offered at the end of this tour.
The Yankees reserve the right to cancel all or part of a tour. If a tour date must be made up as part of a postponed game all tickets will be refunded. All sites on the tours are subject to current availability. Dates are subject to change without notice.
After departing Yankee Stadium you will return to your Transportation Source and proceed to one of the greatest Yankee Hall of Fame Time Greats personal Restaurant, "Mickey Mantles," found in New York City. Imagine eating a burger and having a Beer at Mickey Mantle's Restaurant in New York City.

This is truly a Yankee fans Delight!
Mickey Mantle's Restaurant offers:
(28) Hi-Def Plasma/ LCD TV'S

All major sports events broadcasted daily, including NFL, MLB, College Football and NHL

(30) 3-way Acoustic Ceiling Speakers

Free Wi-Fi

300+ museum quality memorabilia pieces for sale

Full line of Mickey Mantle's Merchandise at boutique

And much, much more
To see the Restaurant Menu click here
All of our vehicles come stocked with a complimentary bar with soda, water and juices. Also accompanied in our vehicles is cold air conditioning/heat, AM/FM/CD/DVD Players and television entertainment to pamper your every sports desire. All Stadium Tours are Pre-scheduled in advance for a minimum of 5 Hours. Additional hours will incur normal charter fees.

If you are interested in taking a Stadium Tour please call us

In Brooklyn &/or Queens call us at (718)-946-3868

In Nassau County call us at ( 516 )-546-6737

Toll free at (888)-638-7654
RULES & REGULATIONS
All Stadium Tour Bookings must be booked in advance to insure dates and availability. All Stadium Tours are based on a strict time schedule and can not be compromised. Pick up time and departure are the only times not subject to change. Itinerary is an approximate time schedule and is not guaranteed. In order to ensure that tours are taken, tour times must be met. All customers interested in tours must allow enough time to ensure arrival at Yankee Stadium. Sedan/Limousine/Bus hours will be met as agreed upon in reservations terms. Metro Limousine Service/Yankee Stadium Tours is not responsible for any changes due to scheduling changes and or clients tardiness. To complete itinerary as listed please be sure you schedule accordingly. Metro Limousine Service/ Yankee Stadium Tours has no affiliation with the NY Yankees and only acts as the liaison between their Stadium Tours and the usage of our Limousine/Transport Company and our clients.

Security and Entry Policies:

CAMERAS
Single-frame photography is permitted at all times, and flash photography is allowed. Neither lighting nor camera support pods are permitted to be used by Guests at the Stadium. Please make sure you are considerate of those around you when taking pictures. Hand-held video cameras are not allowed.

SECURITY
ALL PASSENGERS ARE REMINDED NOT TO TRAVEL TO YANKEE STADIUM WITH BAGS OR CONTAINERS.

Due to increased security measures, in conjunction with Major League Baseball directives, the Yankees are instituting the following procedures:

No backpacks, briefcases, attaché cases, coolers, glass or plastic bottles, cans, large purses, bags or video cameras will be permitted into the ballpark. You must leave these items in your vehicle before entering the ballpark.
No laptops are permitted into the stadium.
No items will be claim checked. You will be asked to return them to your vehicle.
Diaper bags, small children's backpacks, small women's purses & backpack purses will be permitted into the ballpark, but will be inspected at the entrance gates.
Re-entry will not be permitted. Once you enter the ballpark, you will not be permitted to leave and re-enter the facility. Please make sure you have everything you need with you before entering the ballpark.
Only vehicles dropping off or picking up disabled guests will be permitted curbside at the ballpark. No other vehicles are permitted curbside, nor will people be able to stand and wait with their vehicles.
Smoking is prohibited throughout the entire stadium.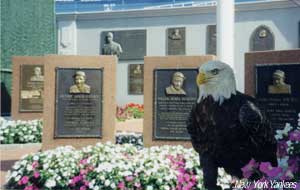 Pictures Courtesy of the NY Yankees